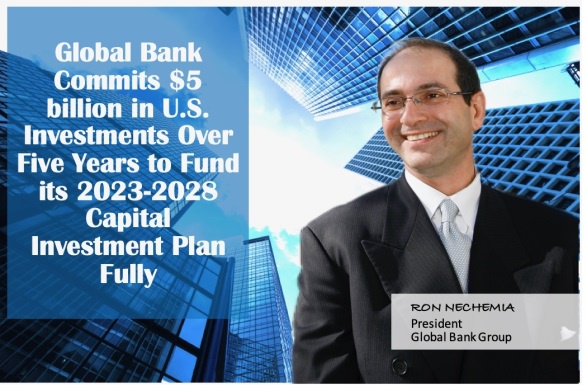 Global Bank Commits $5 billion in U.S. Investments Over Five Years to Fund its 2023-2028 Capital Investment Plan Fully
Newport Beach, CA December 13, 2022 — Global Bank expects to invest up to US$800 million a year in the upcoming years to fund its Capital Investment Plan 2023-2026. Also, Global Bank plans to invest US$1 billion per year to fund its long-range capital program starting in 2026, with an eventual total investment of up to US$20 billion over the next ten years.
Every day of the year, Global Bank strives to provide a world-class workplace environment for its employees. Global Bank expects an ever-increasing level of sophistication, commerciality, flexibility, and sustainability from its global infrastructure and support services as it strives to serve the diverse needs of its client countries in a rapidly changing, increasingly complex and regulated market.
During the week of December 7, the President of Global Bank, Ron Nechemia and his team travelled to California, Washington, D.C., and New York with the Bank-Wide Strategy Group of Global Bank, visiting FinTech and other investment opportunities in support of the development of corporate infrastructure.
Ron Nechemia uses his visits to discuss the thousands of high-skilled and high-paid jobs he expects to come to those areas, a process that could take a decade or more to complete.
Building a Twenty-First Century Global Development Bank
Mr. Nechemia stakes his legacy in large part on significant investments in the capacity development of Global Bank to invest smartly, operate the business efficiently, and manage risk intelligently, including investment in human capital, technology, and the development of state-of-the-art corporate infrastructure.
Global Bank has allocated billions of dollars to build out its banking operation and bring in top talent from top-tier investment banks to head business units
Global Bank's investment in the development of corporate infrastructure is key to the Bank's growth, and it expects to add 300 to 500 more employees to join the leadership team of the Global Bank next year. Those recruits will provide global leadership to corporate functions and lead products and services.
Global Footprint
Global Bank's worldwide headquarters is in California. Global Bank's footprint includes regional headquarters complemented by a network of offices in North America, Europe, the Middle East, Latin America, and Asia Pacific.
The Bank-Wide Strategy Group manages projects that assist Global Bank in reaching major milestones.
The Bank-Wide Strategy Group ("BWS" or "The Group") collaborates with Global Bank's Executive Office and senior divisional and business unit management to set and execute key strategic priorities for Global Bank. The Group, which reports to the Bank's Chief Strategy Officer, an ex-officio member of the Management Committee, develops, evaluates, and executes plans for new businesses and growth initiatives and leads strategic transactions, including partnerships, joint ventures, acquisitions, and dispositions, on behalf of Global Bank. The Group manages projects that assist Global Bank in reaching major milestones.
Release Date:
Tuesday, December 13, 2022