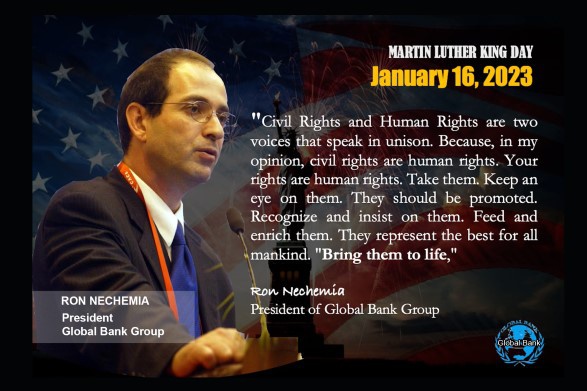 This day honours one of the most exceptional leaders of our century, if not all time...
Newport Beach, CA January 19, 2023 — Today is Martin Luther King Jr. Day, a national holiday commemorating the civil rights leader who received the Nobel Peace Prize in 1964. The Rev. Martin Luther King Jr. became enshrined in American culture as the leading voice of the civil rights movement after preaching a message of nonviolent resistance.
The Universal Declaration of Civil Rights celebrates its 75th anniversary this year. As a result, I am particularly pleased to address you on this year's Martin Luther King Jr. Day.
This day honours one of the most exceptional leaders of our century, if not all time. It is a significant distinction, but it also represents a significant challenge. We have many miles to go and many torches to light in our quest for human rights — in our struggle to rid the world of bigotry, oppression, and violence.
Every once in a while, a human being has a very profound impact on our lives. Whether or not we saw or heard Martin Luther King speak during his lifetime, we know he was one of them. As Mahatma Gandhi once said, a small group of determined spirits fired by an unquenchable faith in their mission can alter the course of history. As a result, nearly seven decades after his death, we continue to benefit from Dr King's life daily. When we hear such a voice, it speaks not only to us individually but to all of us collectively.
Martin Luther King, Jr. Day is a holiday observed on the third Monday of January in the United States to commemorate Martin Luther King, Jr.'s achievements. He rose to national prominence as a Baptist minister who advocated using a nonviolent means to end racial segregation during a bus boycott by African Americans in Montgomery, Alabama, in 1955. In 1957, he founded the Southern Christian Leadership Conference, and in 1963, he led the March on Washington. He was the most influential African American civil rights leader during the 1960s. He was instrumental in the passage of the Civil Rights Act of 1964, which prohibited discrimination in public accommodations, facilities, and employment, and the Voting Rights Act of 1965. In 1964, King received the Nobel Peace Prize. He was assassinated on April 4, 1968.
Dr King set an ethical challenge for us to meet: to ensure that human progress is matched by human understanding. He sought to replace the hatred and injustice of the old age with the love and justice of the new age. He saw that using violence, even in the pursuit of justice, would leave future generations with an endless reign of meaningless chaos as our main legacy.
Civil Rights and Human Rights are two voices that speak in unison. Because, in my opinion, civil rights are human rights. Your rights are human rights. Take them. Keep an eye on them. They should be promoted. Recognize and insist on them. Feed and enrich them. They represent the best for all humanity. "Bring them to life."
The Universal Declaration of Human Rights has been a major source of inspiration for national and international efforts to safeguard and promote human rights, human dignity, and liberties. The main principles of the Declaration have influenced the constitutions of many countries that have gained independence since its writing and the Charter of various organizations like the Global Bank Group. The Declaration, intended to be a "common standard of achievement for all peoples and all nations," has become a yardstick for measuring respect for and compliance with international human rights standards.
The Global Bank Group Charter states our organisational purpose and values. The Global Bank Group's central role is to embrace the Global Bank Group Charter's ideals and values, such as respect for fundamental human rights of men and women, social justice and human dignity, peace and security, the worth of the human person, people's self-determination, social progress and development, and leaving no one behind.
On this day, I pledge never to forget Dr. Martin Luther King, Jr.'s contribution to humanity, along with others like Gandhi and Mandela. Their message and example will continue to guide the Global Bank Group in its global mission.
Release Date:
Tuesday, January 17, 2023