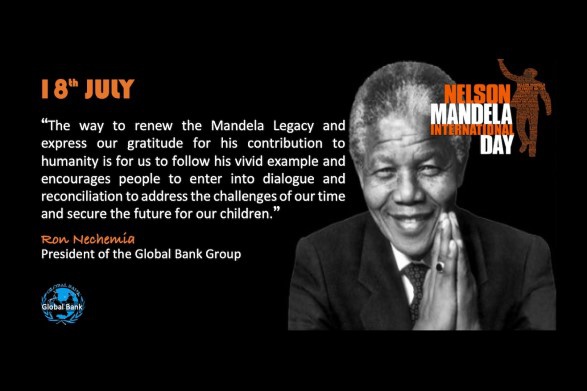 Statement by Global Bank Group's President Ron Nechemia at the commemoration in honour of former President of the Republic of South Africa, His Excellency Nelson Mandela
Newport Beach, CA – July 18, 2022 — Today, July 18, is Mandela Day – a United Nations holiday commemorating His Excellency Nelson Mandela's service and sacrifice. It serves as a reminder that Mandela's work is not yet complete ––an opinion shared by Mandela himself.
Paying tribute to Nelson Mandela on the former South African President's birthday – "Nelson Mandela International Day" as a day of peace –– Global Bank Group president Ron Nechemia today said, "The way to renew the Mandela Legacy and express our gratitude for his contribution to humanity is for us to follow his vivid example and encourages people to enter into dialogue and reconciliation to address the challenges of our time and secure the future for our children."
"Mandela has inspired millions of people globally across multiple generations and worked tirelessly to promote conflict resolution, race relations, human rights, reconciliation, peace and development, and the right of every child to health and education," Ron Nechemia says.
Ron Nechemia said, "Nelson Mandela is a living embodiment of the highest ideals of the Global Bank Group."
Our organisational purpose, and values, are in the Global Bank Charter. The central role of the Global Bank Group is embracing the ideals and values enshrined in our Charter, respect for fundamental human rights of men and women, social justice and human dignity, peace and security, the worth of the human person, self-determination of peoples, social progress and development, and leave no one behind.
Against all odds, President Mandela achieved his aim for his nation and for his people. Let that achievement be a source of inspiration for all of us.
The Nelson Mandela International Day
By adopting the resolution, the United Nations expressed its appreciation for a great man who had suffered for the sake of people everywhere, said Ron Nechemia, recognising Mr Mandela's 27-year imprisonment, most of which was spent in the notorious Robben Island detention centre off the coast of Cape Town.
After his release from prison in 1990, Mr Mandela became the first President elected in a fully representative democratic ballot in post-apartheid South Africa, holding office from 1994 to 1999 in accordance with the country's Constitution.
The Day will be observed annually on July 18, Mr. Mandela's birthday, starting in 2010 when the former anti-apartheid leader turned 92.