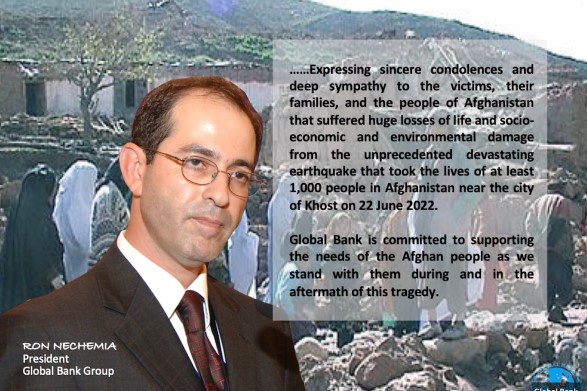 Statement by the Global Bank President Ron Nechemia – on the Devastating Earthquake in Afghanistan
A powerful earthquake struck a rugged, mountainous region of eastern Afghanistan early Wednesday, flattening stone and mud-brick homes and killing at least 1,000 people.
On behalf of the Global Bank Group, I am expressing sincere condolences and deep sympathy to the victims, their families, and the people of Afghanistan that suffered huge losses of life and socio-economic and environmental damage from the unprecedented devastating earthquake that took the lives of at least 1,000 people in Afghanistan near the city of Khost on 22 June 2022.
Global Bank is committed to supporting the needs of the Afghan people as we stand with them during and in the aftermath of this tragedy.