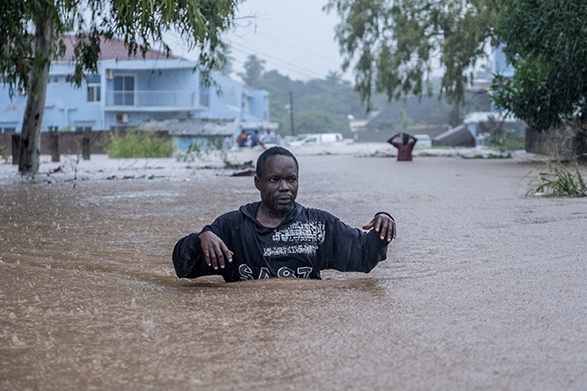 Cyclone Kenneth brings a crushing second round of flooding, distruction and grief.
Los Angeles, CA – May 17, 2019 – In March and April 2019, Southern Africa was hit by two subsequent cyclones that left a trail of damage and destruction in their path. More than 3 million people experienced the direct effects of the cyclone. It is estimated that 1.8 million people are in immediate emergency assistance. Infrastructural damage from Idai across these countries totaled at least US$1 billion. The United Nations has called Cyclone Idai the worst natural disaster in the region in two decades and warned that the death toll could climb past 1,007.
In a statement issued today, Ron Nechemia (@RonNechemia), the President of the Global Bank Group1 (@GlobalBankGroup) expresses his deep concern at the number and scale of natural disasters and their increasing impact within recent years. These disasters have resulted in a massive loss of life and long-term negative social, economic and environmental consequences for vulnerable societies throughout the world, in particular in developing countries and we reaffirm the Global Bank Group's commitment to climate action."
The Global Bank Group pledges to speed up action on:
Climate Finance: The Global Bank Group together with the Global Bank Disaster Risk Reduction and Reconstruction Fund – An Umbrella Trust Fund (GB-DRRRF) (@GBDRRRF) have recommitted to substantially increase financing for climate change mitigation and adaptation over the next few years. Resilient infrastructure is expected to play a key role in that commitment.
Low-carbon Infrastructure Solutions: The Global Bank Group will increase its focus on low-carbon solutions and will continue to harmonize tools and metrics to assess infrastructure, particularly energy-related greenhouse gas (GHG) emissions.
Adaptation: The Global Bank Group will jointly develop a systematic approach to mainstream climate resilience in policies, plans, and investments.
"Tropical Cyclone Idai and Cyclone Kenneth affect more than 3 million people across Southern Africa in the countries of Mozambique, Zimbabwe, and the Republic of Malawi. Each was a reminder of the pressing need to scale up the level of our ambition to reduce disaster risk. Not the least of which is measured by the dire scenarios described in the Special Report on Global Warming of 1.5ºC >2 published by the Nobel-Prize winning Intergovernmental Panel on Climate Change (IPCC). This Special Report, approved by governments, confirms that human influence on the climate system is clear and growing, with impacts observed across all continents and oceans," says Ron Nechemia, the President of the Global Bank Group.
Here are some scenes of the devastation
Climate change, natural disasters, and human displacement knows no national borders
Intense Tropical Cyclone Idai is one of the worst tropical cyclones on record to affect Africa and the Southern Hemisphere. The long-lived storm caused catastrophic damage in Mozambique, Zimbabwe, and the Republic of Malawi, leaving more than 1,007 people dead and thousands more missing. Idai is the second-deadliest tropical cyclone recorded in the South-West Indian Ocean basin, behind only the 1892 Mauritius cyclone. It currently ranks as the third-deadliest tropical cyclone on record.
Idai caused severe flooding throughout Madagascar, Malawi, Mozambique, and Zimbabwe resulting in at least 1,007 deaths. More than 3 million people experienced the direct effects of the cyclone, with hundreds of thousands in need of assistance. Infrastructural damage from Idai across these countries totaled at least US$1 billion.
Cyclone Idai's wreckage came on top of an already serious food insecurity situation in Mozambique. From September to December 2018, an estimated 1.78 million people were severely food insecure in the country. 3
Intense Tropical Cyclone Kenneth is the strongest tropical cyclone to make landfall in Mozambique since modern records began. The cyclone also caused significant damage in the Comoro Islands and Tanzania. To date, the 2018–19 South-West Indian Ocean cyclone season has seen fourteenth tropical storms, a record-breaking ten tropical cyclones, and ten intense tropical cyclones.
Kenneth struck Mozambique on the heels of Cyclone Idai which had devastated the region, raising fears that the ongoing humanitarian crisis there could be worsened by the storm. Local authorities in northern Mozambique evacuated more than 30,000 people ahead of the storm, given the expected impacts.
The Cyclone Kenneth struck some six weeks after Cyclone Idai, touching down in a different part of the country — in the north. Both cyclones are rare events. According to the World Meteorological Organization, "there is no record of two storms of such intensity striking Mozambique in the same season."
| | |
| --- | --- |
| 1 | Global Bank Group, consisting of five institutions, represents, develops and supports the collective interests of its business interests around the world. One of these institutions is The Bank for International Development and Reconstruction known as the Global Bank,("BIDR," "Global Bank," or "Bank"). Global Bank is a full-fledged private sector global development bank, in formation, with legal and regulatory rights including formal approval to utilize the term "Bank" pending – the world's second global development bank – positioned next to the World Bank and the preeminent regional development banks (MDBs). The Bank for International Development and Reconstruction borrows in the international capital markets. |
| 2 | The report, whose full name is Global Warming of 1.5°C, an Intergovernmental Panel on Climate Change (IPCC) special report on the impacts of global warming of 1.5°C above pre-industrial levels and related global greenhouse gas emission pathways, in the context of strengthening the global response to the threat of climate change, sustainable development, and efforts to eradicate poverty, is being prepared under the scientific leadership of all three IPCC Working Groups. |
| 3 | According to the Integrated Food Security Phase Classification (IPC) analysis conducted by the Technical Secretariat for Food Security and Nutrition (SETSAN) in October 2018 |